Description
Non-solidify rubber bitumen Waterproofing Coating is the new waterproofing material which is newly developed by our company. This product is one component Waterproofing coating be made by some modified materials, it is composed of rubber powder, high polymer and bitumen etc.
Non-solidify rubber bitumen waterproofing coating can exposed to air for long time, non solidify, insoluble in water, very sticking, it was suitable the work surface to be complex specially, the coating can self-acting find and fix the leaking position.
Non-solidify rubber bitumen waterproofing coating has the outstanding creep properties, good waterproofing performance and aging resistance. Applying of this product including plastering, spraying or slip casting etc. This coating can be used to made Composite Waterproofing Membrane with others membrane and also using for a independent waterproofing layer.
Characteristic:
1. Excellent creep properties
2. Excellent bonding performance
3. Excellent self-healing property
4. Excellent wet construction at the grass-roots level
5. Excellent resistance to chemical corrosion resistance and aging resistance
6. Superior environmental performance
Technical Data: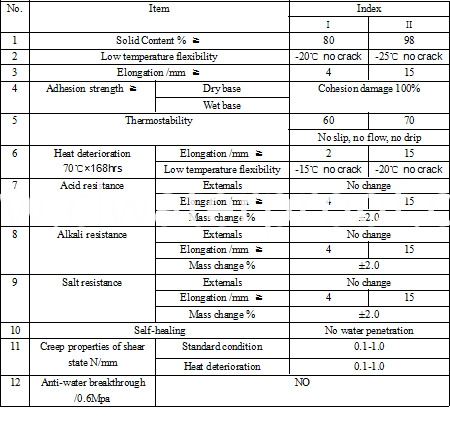 Application:
Waterproofing of Roofs
Waterproofing of Balconies, Terraces and Verandas
Waterproofing of Wet Areas (under-tile) in Bathrooms, Kitchens, Balconies, Auxiliary Rooms, etc
Waterproofing of Green Roofs, Flowerbeds, Planter Boxes
Waterproofing of old Bitumen felts, Asphalt felts, EPDM and PVC membranes and old Acrylic coatings.
Protection of Polyurethane Foam Insulation
Waterproofing and protection of Concrete constructions like Bridge-Decks, Tunnels, Stadium Stands, Car Parks, etc.
Construction points :
1.Clean up the grass-roots
When the surface of the grass-roots level obviously uneven is suitable to use cement mortar screeding; Through the pipeline of the waterproof layer, embedded parts and equipment foundation shall be buried before the waterproof layer construction and installation. The gaps between the pipeline and structure should plugging tightly of fine stone concrete or polymer waterproof mortar. Use a broom or hair drier to clean up grass-roots mortar and construction waste. Acceptance of the basic level should smooth, solid, drainage slope comply with the design requirements, grass-roots level can be wet but can not have water on the surface.
2.Detail parts additional layer construction
The place such as roof rainwater mouth, the roof tube root, the inside and exposed corner of parapet and gutter firstly blade coating 1mm non-cured rubberized asphalt waterproof coating to make strengthen.
3.Coating construction
Coating can choose blade coating or spray coating construction, open extrusion pump, to squeeze non-cured rubberized asphalt waterproof coating to the grass-roots, blade coating evenly and full coating not exposed base, coating thickness according to the design requirements.
4.Pave coil
Then paving the coiled material to waterproof coating surface that has completed the construction , it should laid straight, smooth, no wrinkle. Coiled material lap width is 100 mm, overlapping parts adopt cold stick form, then blade coating or spray
coating non-cured rubberized asphalt waterproof coating on the coil lap width range, no need table dry time, can be directly construction overlapping parts of the coil, and rolling.
5.water-storing test
After the completion of the waterproof layer, water storage experiment was carried out in accordance with the regulations.
Storage 24 hours no leakage water is qualified.
6.The construction of protective layer
The quality of roof waterproof layer can be qualified acceptance, protective layer construction can be going. According to
design requirements do the corresponding concrete, block material or cement mortar layer.
Looking for ideal Bitumen Waterproofing Coating Manufacturer & supplier ? We have a wide selection at great prices to help you get creative. All the Non Solidify Bitumen are quality guaranteed. We are China Origin Factory of Rubber Bitumen Coating. If you have any question, please feel free to contact us.
Product Categories : Waterproofing Coating